Saints Row IV
Return to form? Saints Row IV does the opposite  and (somehow) gets even more insane than its predecessors. After a catastrophic alien invasion occurs, the mutants transport the Saints to a bizarro-Steelport simulation, you must fight to free humanity from Zinyak's mental grasp; by utilizing superpowers of course! This zany open-world game does 'crazy' right.
Infamous
Infamous is a great third-person action title that allows you to traverse the city with awesome electric powers. Taking out enemies with stylish moves and getting upgrades throughout the story is just couple enticing things in this game. The story is intriguing and presented in a comic book-styled manner. Infamous is a great start to a new even greater series.

Zelda II: The Adventure of Link
Zelda II: The Adventure of Link is it sort of the odd one out when it comes to The Legend of Zelda series, not for negative reasons though. The Adventure of Link features side-scrolling areas within a larger top-down world map, rather than the exclusively top-down perspective of the series' earlier games. The game features RPG-like qualities, with Castlevania-like gameplay, and it works splendidly! It's wildly addictive, tough, and rewarding.
Fallout: New Vegas
Fallout: New Vegas took everything that we loved from Fallout 3 and moved it to a more interesting and diverse landscape. Not only that, the game features an intriguing plot set during a post-apocalyptic, retro-futuristic Las Vegas, following the Great War between the China, and the United States. You play as Courier, a person  sent to deliver a package from Primm to New Vegas. Unfortunately, you are stopped in your tracks by unknown man, injured, and left for dead. Luckily, you meet a robot named Victor who saves you – and an epic journey unfolds.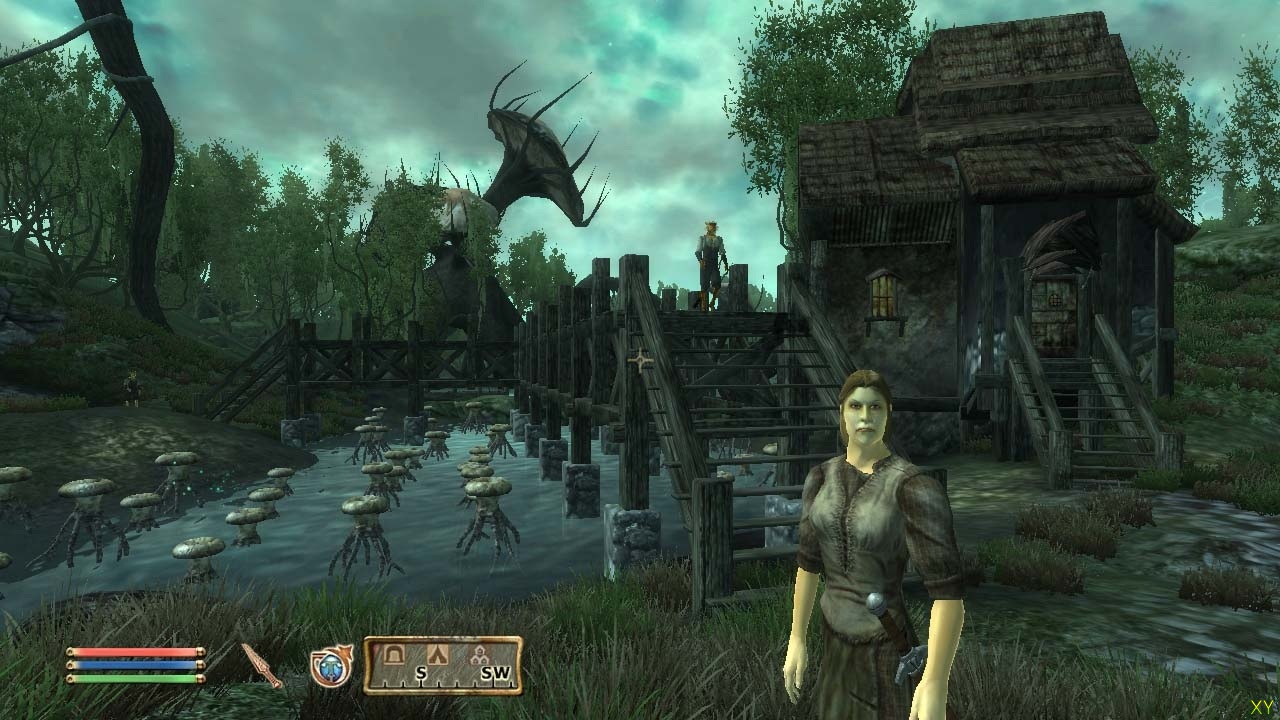 The Elder Scrolls IV: Oblivion
The Elder Scrolls IV: Oblivion is more than just a game, it's an entire world endless possibilities. From its in-depth characters, to its deep and ever-growing lore; this world feels like it's living and breathing as you traverse across it. Defeat monstrous beasts and reign supreme in the land of Tamriel.
The Legend of Zelda: Twilight Princess
The reveal for The Legend of Zelda: Twilight Princess will go down as one of the most epic game announcements of all time. The hype was strong with this one; luckily, it delivered. Horseback sword-fighting was introduced, dungeons are more strategic than ever, and the mature tone is what many fans had dreaming of. Twilight Princess is huge Zelda game, with a ton of items, collectables, and secrets.
Far Cry 3
Far Cry 3's campaign shines with its brilliantly crafted story and characters. Vaas Montenegro is seriously one of the most crazy, sadistic, and memorable characters in recent video games. With a near perfect mix of FPS action, open world exploration, and one of gaming's best villains, it's arguably the best game in the series.
Grand Theft Auto: San Andreas
Grand Theft Auto: San Andreas is a truly phenomenal accomplishment by developer Rockstar Games. We'd never seen such a large world in a video game, consisting of such diverse areas and cities. Not just that, but the drama and storytelling is top notch, featuring some A-list actors. (Samuel L. Jackson) From body-building, BMX, or flying jets, there's nothing you can't do in San Andreas!

Grand Theft Auto IV
Taking a huge graphical leap from the PS2/Xbox generation, to the PS3/360, Grand Theft Auto IV came packing with a AAA presentation, engrossing story, and addicting online play. You play as Niko, he's arriving at Liberty City for the first time, and trying to escape his past. However, his cousin Roman has quite the future paved out for them both. Cars will be stolen, and people will surely die.
The Legend of Zelda: A Link Between Worlds
This Zelda title was sort of a throwback to older games in the series. The top-down gameplay immediately brings on all sorts of nostalgic feelings. A Link Between Worlds allows you to take on any dungeon in any order, similar to the original Legend of Zelda. The game features some of the best puzzles in all of the series history, and the 'openness' allows you to experience the game differently every time.